ASTRO (아스트로) is a South Korean boy group that consists of 6 members: JinJin, MJ, Cha Eunwoo, Moonbin, Rocky and Sanha. The group debuted on February 23rd, 2016, under Fantagio Entertainment.
ASTRO Fandom Name: Aroha
ASTRO Official Fan Colors: Vivid Plum and Space Violet
Members
Adapted from their Naver profile.
MJ (Hangul: 엠제이) – Main vocal
JinJin (진진) — Leader, main rapper
Cha Eun-woo (차은우) – Visual, sub-vocalist
Moon Bin (문빈) – Lead vocalist and lead dancer
Rocky (라키) – Main dancer and lead rapper
Yoon San-ha (윤산하) – Vocalist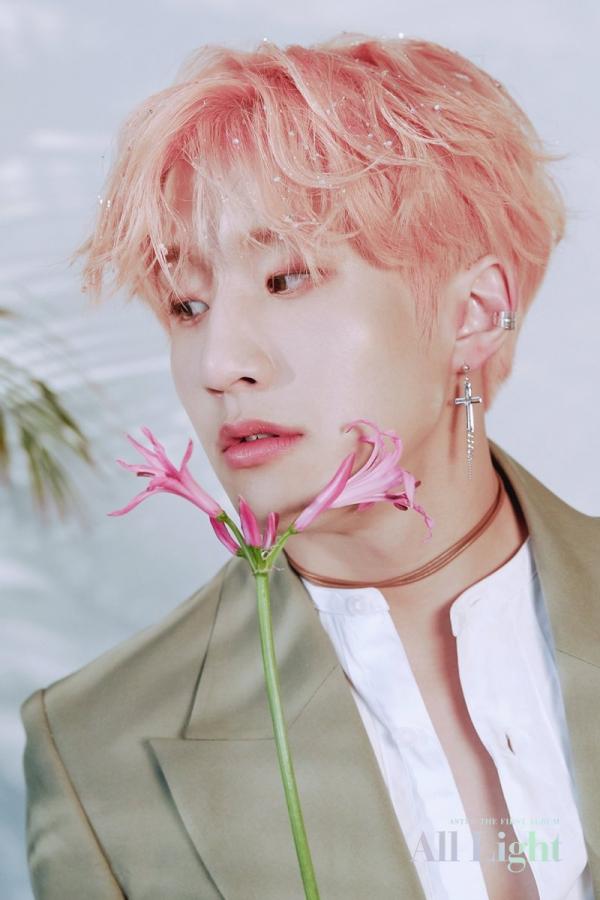 JinJin

Stage Name: JinJin (진진)
Birth Name: Park Jin Woo (박진우)
Position: Leader, Main Rapper, Lead Dancer
Birthday: March 15, 1996
Zodiac Sign: Pisces
Birthplace: Ilsan, Gyeonggi-do, South Korea.
Height: 174 cm (5'8″)
Weight: 63 kg (138 lbs)
Blood Type: A
Specialty: Drums
JinJin Facts:
– His nickname is "Angelic Smile"
– Personality: a warm person
– He's often called the Slow Rapper because of how slow he talks.
– Education: Hanlim Multi Arts High School (graduated)
– He attended NY Dance Academy in Ilsan (before joining Fantagio as trainee)
– He was the 5th trainee that was officially introduced with Photo Test Cut by Fantagio iTeen
– According to Eunwoo he is the latest member to wake-up in the morning.
– Jinjin revealed he & Eunwoo are the best English Speaker among ASTRO
– He can speak Korean, English & basic Chinese
– His favorite color is green.
– He always takes his cellphone with him, even when he goes to the bathroom.
– In 2015 he participated in Fantagio Web Drama 투비컨티뉴드 'To Be Continued'
– Jinwoo was once featured in Eric Nam's song 'Can't Help Myself'
– JinJin and Wanna One's Ong Seongwoo attended the same school but Ong is a senior. From there, they become close to each other.
– JinJin is good at beatboxing. (The Immigration).
– If he wouldn't be a singer, he would be a drummer, he loves playing the drums. (AlArabiya Int.)
– His role model is G-Dragon (BigBang)
– Jin Jin used to be in the same street dance team as GOT7's Yugyeom. (vLive)
– If Jinjin was a girl, he would date Eunwoo because he is extremely handsome.
– In the new dorm, Jinjin and Moonbin share a room.
– JinJin's ideal type: a girl with her own opinions and attitudes.
Show more JinJin fun facts…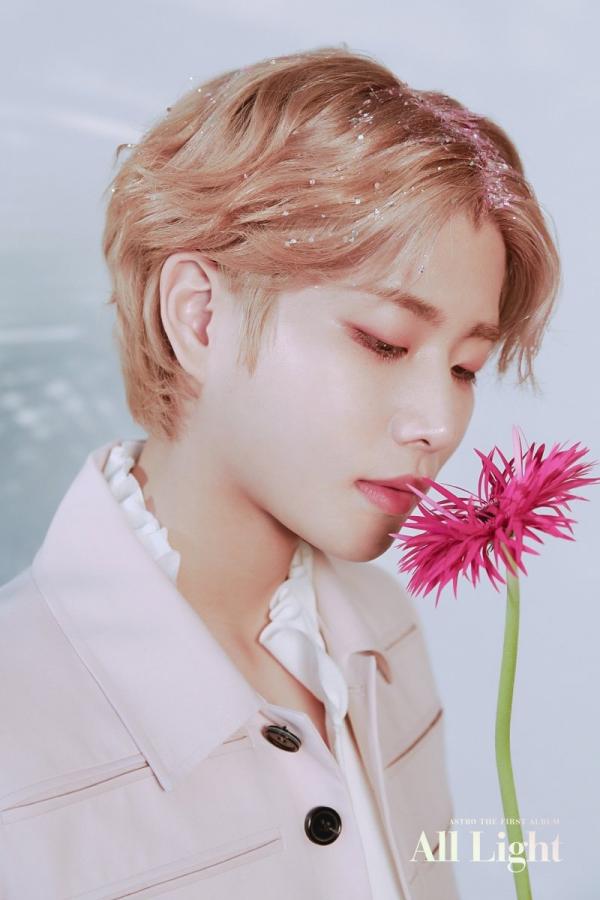 MJ

Stage Name: MJ (엠제이)
Birth Name: Kim Myung Jun (김명준)
Position: Main Vocalist
Birthday: March 5, 1994
Zodiac Sign: Pisces
Birthplace: Suwon, Gyeonggi Province, South Korea
Height: 175 cm (5'9″)
Weight: 58 kg (127 lbs)
Blood Type: O
Specialty: Lame Jokes
MJ Facts:
– His nickname is "The Happy Virus", because he's always laughing.
– Personality: he jokes a lot and is mischievous.
– Contestant of 2012 JYP Ent. x HUM Audition (won a one year scholarship from Seoul National University)
– Auditioned for JYP Ent. with iKON Donghyuk, Yang Hongseok, and Kim Jisoo (actor)
– In 2015 appeared in Fantagio Web Drama 투비컨티뉴드 "To Be Continued"
– MJ's favorite superhero: Iron Man (Billboard x MMT Astro Interview)
– He calls himself "Smile Engine".
– His favorite colors are Mint and Yellow.
– His favorite Marvel's character is Iron Man.
– He is the most talkative member in the group.
– Shoe Size: 255
– His hobby is drawing.
– One of his special talents is impersonations. He's shown us his impersonations of Kwanghee, Park Jaebum, Yoon Moon- Shik, Ha Dongyun, zion.t, Lee Sung Kyun and Lee Saedol
– He also does a great impression of a camel, chicken, baby chick and 'aegyo duck' (Weekly Idol – during Autumn Story promotions)
– He has a baby belly. And he doesn't want to get rid of it for abs because he says its more soft to lay on your belly like that! (mentioned in vlive)
– His favorite food is seafood and he says he would like to open up a sushi restaurant one day.
– The first person he befriended when he joined Fantagio was Sanha.
– He wanted to be an architect when he was younger, however he gave up the dream when he realized how much studying was involved.
– Moonbin said MJ is a little bit weird (4D character)
– His role model is actor & singer Lee Seung-Gi
– MJ is friends with MYTEEN's Xiheon.
– If MJ wasn't a singer, he would be an architectural designer.
– If MJ was a girl, he would date himself. ("Astro Idol Party" 170109)
– In the new dorm, Rocky, MJ, Sanha share a room.
– MJ's ideal type: A girl with a nice smile, a good sense of humor and who is similar to him.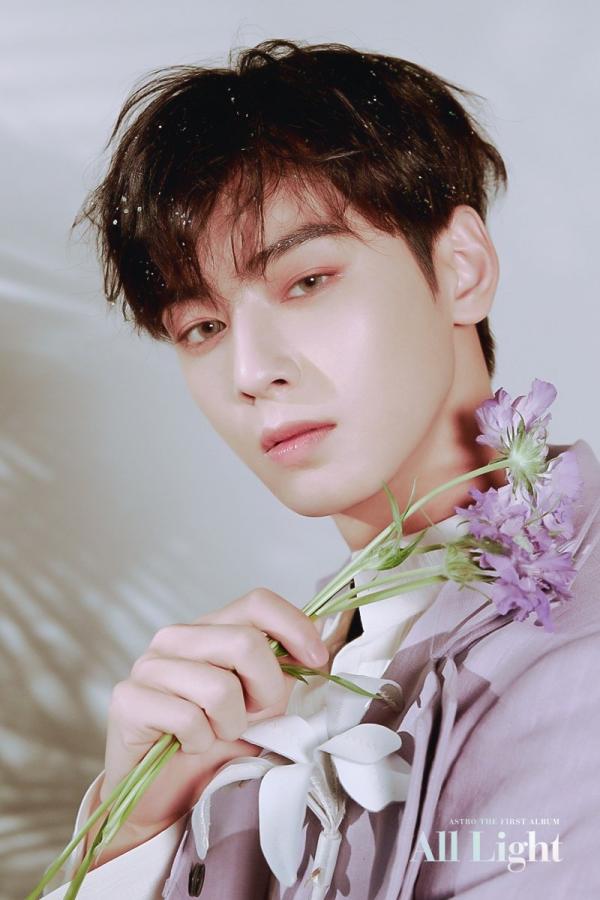 Cha Eunwoo

Stage Name: Cha Eunwoo (차은우)
Birth Name: Lee Dong Min (이동민)
Position: Vocalist, Visual, Face of The Group
Birthday: March 30, 1997
Zodiac Sign: Aries
Birthplace: Sabon District, Gunpo, Gyeonggi Province, South Korea
Height: 183 cm (6'0″)
Weight: 64 kg (141 lbs)
Blood Type: B
Specialties: Swimming, Guitar, Violin, Piano, DJ-ing
Cha Eunwoo Facts:
– Eunwoo has a little brother who is studying in China.
– His nickname is "Morning Alarm" – he always wakes up earlier and starts waking up the rest of the members.
– Eunwoo's other nickname is "White Tee Guy" (because during Breathless era, he always wore white t-shirts).
– He's also called "Face Genius" (meaning someone who has crazily handsome face).
– Personality: he seems chic, but he is very loyal
– He attended Suri Middle School, then Suri High School
– Education: Hanlim Multi Art School (graduated in 2016), Sungkyunkwan University, Acting Major (accepted in November 2015)
– 2014/2015 Shara Shara Make Up Brand Ambassador
– In 2014 he appeared in KBS 9AM/PM News – Hallyu Star & Gangnam Style: Trainee Interview with Moonbin, Rocky, and Jinjin
– In 2014 he appeared in a movie: 두근두근 내 인생 "My Brilliant Life" as an imaginary teenage healthy version of Song Hyekyo & Kang Dongwon's son – Ahreum
– He acted in Fantagio Web Drama 'To Be Continued' (2015), in Youtube Premium drama 'Top Management' (2018)
– In 2013 he participated to Mr.Pizza's iTeen Audition Promotional Model with Moonbin
– Jinjin revealed he & Eunwoo are the best English Speaker among ASTRO
– He is the 4th trainee that was officially introduced with Photo Test Cut by Fantagio iTeen
– He is considered the smartest member.
– He is the biggest eater in the band. His favorite food is meat.
– He can play the Piano, Guitar, Flute & Violin
– His favorite color is Blue.
– His favorite soccer team is Real Madrid.
– His role model is actor & singer Seo Kang Jun (5urprise)
– Eunwoo was part of the staff of 'Law of the Jungle in New Caledonia'.
– Eunwoo acted in the webdrama "My Romantic Some Recipe" (2016), in the Korean Drama "The best hit" (2017), he also had a cameo role in the webdrama "Revenge Note" (2017).
– He is the male lead in the JTBC drama "My ID is Gangnam Beauty".
– His role models are EXO.
– He's friends with Seventeen's Mingyu.
– If he wouldn't be singer, he would be a teacher, a doctor, or an anchor.
– If Eunwoo was a girl, he would date Jinjin. ("Astro Idol Party" 170109)
– In the new dorm, Eunwoo has a room for himself.
– Cha Eunwoo's ideal type: A girl that's curious, wise and intelligent.
Show more Cha Eunwoo fun facts…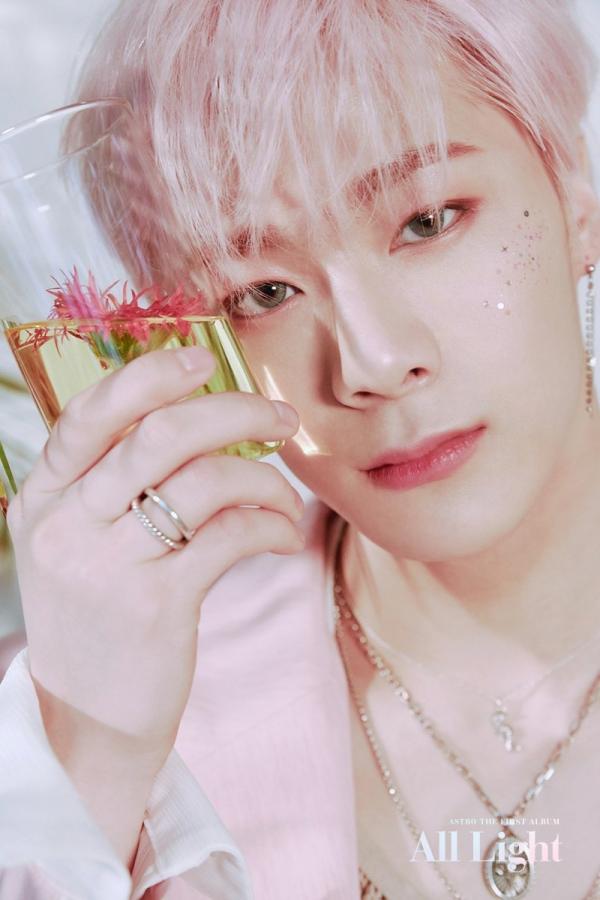 Moonbin

Stage Name: Moonbin (문빈)
Birth Name: Moon Bin (문빈)
Position: Main Dancer, Lead Vocalist
Birthday: January 26, 1998
Zodiac Sign: Aquarius
Birthplace: Cheongju, Chungbuk , South Korea
Height: 181 cm (5'11")
Weight: 64 kg (141 lbs)
Blood Type: B
Specialties: Piano, Acting, Water Sports, Dancing
Moonbin Facts:
– Family: father, mother, younger sister (Moon SooA: YG Trainee, Unpretty Rapstar Season 2)
– Personality: tender and warmhearted
– His nicknames are: U-Know MoonBin (유노문빈), Binnie (빈이), Sleepyhead, Puppycat (because he can make the face of a cat and the face of a puppy)
– In 2006 he appeared in DBSK's Balloons MV (as Mini U-Know Yunho)
– In 2007 he appeared on SBS Star King as Mini DBSK – UKnow Yunho
– He was child model, ulzzang and actor.
– He debuted in 2004 as child model.
– In his childhood he filmed a Samsung CF.
– Education: Hanlim Multi Arts High School (graduated in 2016)
– The food he dislikes: fish, egg yolk, tofu (Billboard x MMT Astro Interview)
– His favorite food is beef.
– Moonbin doesn't like raw fish.
– He can play the piano.
– In 2009 he appeared in KBS 2 Drama 꽃보다 남자 "Boys Over Flower" as young So Yijeong (Kimbum)
– He appeared in 2015 MNet Drama – 칠전팔기, 구해라 "Perseverance Goo Haera" Ep. 1
– He appeared in 2015 Fantagio Web Drama 투비컨티뉴드 "To Be Continued"
– Moonbin's childhood best friends are iKON's Chanwoo and SF9's Chani.
– His favorite color is Black.
– His hobby is playing video games.
– He loves American football and watching the NFL games.
– His role model is Taeyang (BigBang)
– Moonbin is close with GFriend's SinB. Moonbin and SinB are childhood bestfriends.
– Moonbin is friends with BTS' Jungkook and Seventeen's Seungkwan.
– If he wouldn't be a singer, he would be an athlete, maybe a swimmer.
– If Moonbin was a girl, he would date Eunwoo because he is handsome and he would take care of him.
– In the new dorm, Moonbin and Jinjin share a room.
– Moonbin's ideal type: A girl with a good sense of humor.
Show more Moonbin fun facts…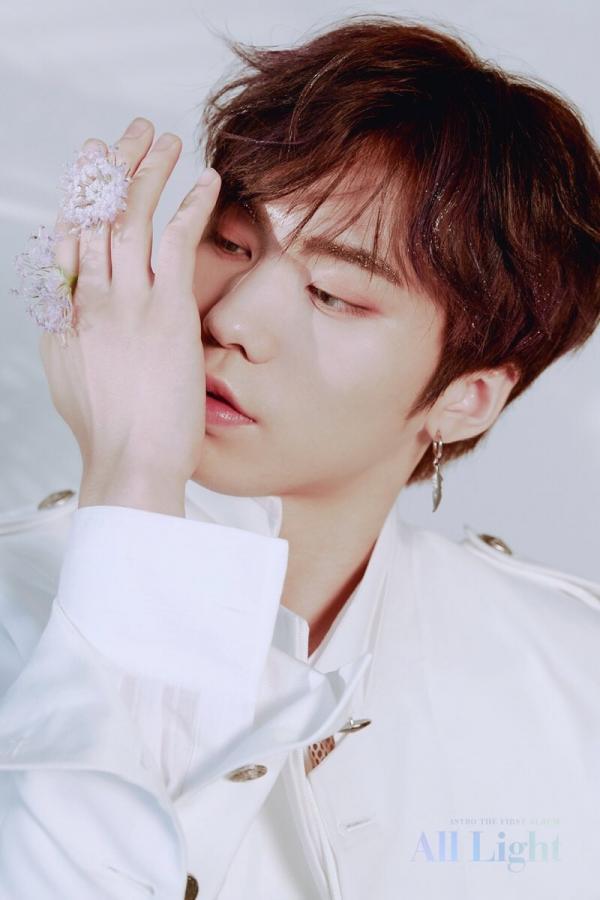 Rocky

Stage Name: Rocky (라키)
Birth Name: Park Min Hyuk (박민혁)
Position: Main Dancer, Lead Rapper, Vocalist
Birthday: February 25, 1999
Zodiac Sign: Pisces
Birthplace: Jinju, South Gyeongsang Province, South Korea
Height: 177 cm (5'10″)
Weight: 63 kg (138 lbs)
Blood Type: O
Specialties: Cooking, Dancing, Taekwondo, Choreographer
Rocky Facts:
– His nickname is "Chef Minhyuk"
– Personality: quiet, very reliable and hardworking
– Fantagio staff named him "Dancing Machine"
– Education: Hanlim Multi Arts High School
– On July 14, 2011 Minhyuk auditioned for TVN Korea's Got Talent.
– In 2015 he appeared in MNet Drama – Perseverance Goo Haera
– In 2015 he participated in Fantagio's Web Drama 투비컨티뉴드 "To Be Continued"
– Rocky was a participant in "Hit the Stage".
– He knows Taekwondo (he holds a fourth rank (Black Belt) now)
– He revealed he is a big eater.
– His favorite color is Red.
– Minhyuk is the 1st trainee that was officially introduced with Photo Test Cut.
– He would love to go camping with his bandmates.
– He created the choreography for the Astro MVs "Fireworks" and "Wake up call".
– He attended the same dance school along with SinB of GFRIEND and Eunseo of WJSN.
– If he wouldn't be a singer, he would be a dance teacher.
– His role model is G-Dragon (BigBang)
– Rocky is friends with Monsta X's Jooheon, Lee Suhyun of Akmu, Kim Sae-ron and Seungkwan of Seventeen.
– In the new dorm, Rocky, MJ, Sanha share a room.
– If Rocky was a girl, he would date Sanha. ("Astro Idol Party" 170109)
– Rocky's ideal type: A caring, cute and nice girl.
Show more Rocky fun facts…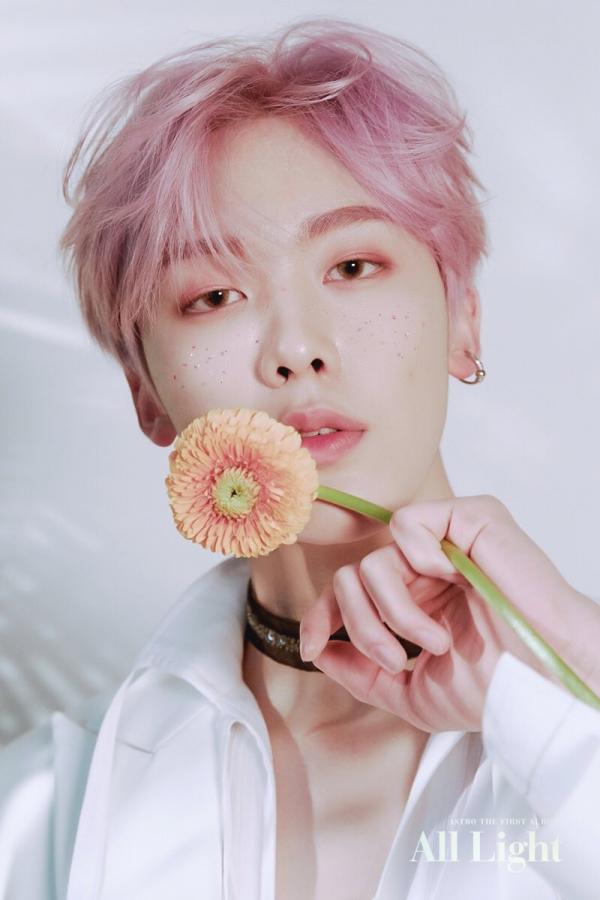 Sanha

Stage Name: Sanha (산하)
Birth Name: Yoon San Ha (윤산하)
Position: Vocalist, Maknae
Birthday: March 21, 2000
Zodiac Sign: Aries
Birthplace: Seoul, South Korea
Height: 184 cm (6'0″)
Weight: 60 kg (132 lbs)
Blood Type: AB
Specialties: Guitar, Flexible Body, Dancing, Fast Learning
Sanha Facts:
– His nickname is "Beagle"
– Personality: pure and innocent
– He has 2 older brothers: Junha born in '95 and Jeha born in '98.
– He learned to play guitar from his dad and brothers.
– He attended A-Sound Music Academy
– He is Christian.
– His hobbies: Eating
– He has flexible body, he can fit in a bag or in a cupboard.
– He is allergic to seafood.
– He can't drink coffee.
– His favorite color is Pink.
– He was accepted as Fantagio iTeen's trainee on December 16, 2012
– In 2015 he participated in Fantagio's Web Drama 투비컨티뉴드 "To Be Continued"
– He is the 3rd trainee that was officially introduced with Photo Test Cut.
– He likes to bully his hyungs a lot. XD
– His role model: Busker Busker
– If he wouldn't be a Kpop singer, he would most probably be a guitarist.
– If Sanha was a girl, he would date himself. ("Astro Idol Party" 170109)
– In the new dorm, Rocky, MJ, Sanha share a room.
– Sanha's ideal type: A girl who thinks about him a lot and asks him about his day.
Show more Sanha fun facts…
Sources: