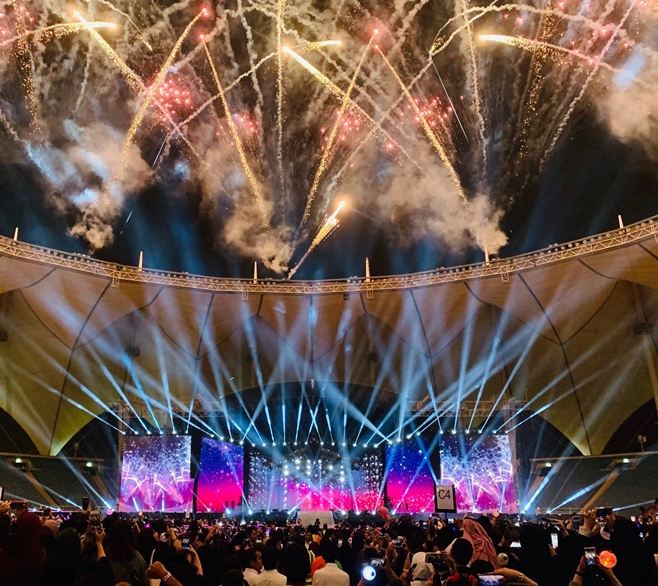 BTS, continuing the world tour, has colored purple waves in Saudi Arabia.

BTS held a world tour concert "LOVE YOURSELF: SPEAK YOURSELF" at 1:30 AM (Korea time) at the Riyadh King Fahd International Stadium in Saudi Arabia.
Before the concert began on the day, the BTS music video appeared in the concert hall, and ARMY filled the concert hall and sang together. Subsequently, BTS, which announced the beginning of the performance with the VCR showing the members, opened the door with Dionysus. BTS, dressed in a colorfully embellished all-white outfit, caught the eye with an intense performance. RM shouted "Armys!" And even showed "Not Today," offering brilliant and intense charisma.
At the end of the stage, BTS introduced themselves as "two and three bulletproof" and greeted the ARMY in prepared Arabic. The members continued their introductions, and RM said, "I know you have a lot of love from far away. Today is a long awaited festival. " Jungkook said, "You gave us wings to fly from Korea. It's the best. "
RM said, "Are you Korean Army watching us in Korea too? We are here." Sugar then said," Are you ready to fly with us? "Followed by dinging " Wings ".
Following the group stage, the solo stage of the members continued. J-Hope first appeared on the stage, wearing a white suit, wearing sunglasses and showing off his solo song, "Just Dance". Jungkook wore a pink jacket and pants and played solo song Euphoria. In particular, Jungkook, who was loaded with wires, flew around the theater and attracted attention.
BTS, who came to the stage with a sensational costume with pink tone, ran around the stage with the 'Best Of Me' to inspire the atmosphere. Jimin then wore black and white shirts and black pants on stage to create a mistic atmosphere with the solo song Serendipity. RM, who wore a uniquely patterned robe on jeans, showed a solo song "Love," and attracted the end of the stage by putting Arabic on the stage. The Army also sang the RM's real name, Kim Nam-joon.
BTS then went on stage in casual wear, such as shirts in light tones, shirts with floral patterns, and jeans, and recently sang "Boy with Luv." The members smiled brightly or showed humorous behavior, and Jin prepared a rose and attracted attention. BTS, who finished the stage, shouted Army, saying, "You'll love the remaining songs." RM said, "What a Good evening it is. Watch carefully and enjoy. "
The first song in the medley was '쩔어', which showed powerful energy through the performance hall, followed by '뱁새' to create a uniquely witty stage. In addition, the hit song "Fire" is full of energy and attracted attention as well as powerful and accurate performance (Kalgunmu.) Soon afterwards, Idol (IDOL) was introduced to enhance the atmosphere of the venue.
V's solo song "Singularity" (singularity) was a sexy and sensual stage. Army were cheering for the appearance of V. BTS then wore dark-black blouse costumes such as all-black and presented the band's Fake Love. In succession, Sugar staged a solo song, SeeSaw, in a dark purple suit. The last solo stage was Jin. Jean dressed in a white and black suit, and started the solo song "Epiphany" with the piano, and then boasted singing power.
Jin, V, Jimin, and Jungkook vocal members caught the attention by singing the unit song 'Undelivered Heartfelt' in black and white lace blouse and suit. The rapper line RM, Sugar, and J-Hope wore costumes that gave points to all-black fashion with hair bands, necklaces, etc., and gave an intense performance with the unit song 'Tear'. BTS in all-black outfits ended with a 'MIC Drop', giving an intense ending.
Army shouted "BTS" and waited for the encore stage, and BTS, who came back to the stage, dressed up in white and black T-shirts, dressed up in stages and decorated the stage with 'Anpanman'. The members who enjoyed the rides in the middle of the stage also caught the attention. After showing "So What", V said, "I feel really good today, Are you too?". then they replied In Arabic," It's the best! " J-Hope also said "I love you" in Arabic. BTS RM, who called 'Make It Right', said, "I'm so happy to be with you today." Jin then celebrated Jimin with his birthday on the 13th. did. Jimin ran around the stage and said, "I feel so good. Thank you everyone. I forgot it is my birthday because I forgot my birthday by excitement to meet you guys. So I am happy to have a sudden happy birthday. I am happier because I can spend my birthday with you and my members. "
In addition, BTS suggested to the Army the audience wave with their cell phone lights, and when the audience wave stops too quick, V tried explaining it but it ended up again too soon. That got them laugh out. Then, V said " I will keep these moments in my mind, It's unbelievable that we had performed in this full stadium, I want to come here again. Thank you so much and see you again. " Suga added "I'm new to Saudi concerts and I was surprised by you to be with us and enjoy with us. Can we come back? we will come anytime if you want. Thank. I love you. "
Jungkook said, "We worked so hard and to come to Saudi Arabia. I hope you have received a lot of happy feelings from us. Please love us a lot in the future too. Thank you. " Jin who flew the hand kisses, said " Performances with all of you always seems fun. I love our members who enjoyed the show so much, and I love you guys. I love you. I love you! " Jimin said, "Thank you very much for being with you. I love you, "J-Hope said," I missed this shout, this atmosphere. I was nervous at first but I was happy to meet you after a long time. Thank you very much for making a meaningful place. " RM said, "Remember this night. Thank you and I love you. " It was finished with the final song" Mikrokosmos ".
Meanwhile, BTS was the first artist among overseas artists who performed the concert in this stadium